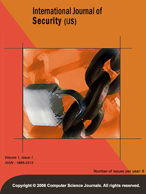 International Journal of Security (IJS)
Published -
Bi-Monthly
| Established -
2007
| Year of Publication -
2020
SUBMISSION
May 31, 2021

NOTIFICATION
June 30, 2021

PUBLICATION
July 31, 2021

ABSTRACTING & INDEXING

Google Scholar
Academic Journals Database
ScientificCommons
Semantic Scholar
Academic Index
FIND MORE
| | |
| --- | --- |
| | OPEN ACCESS LIBRARY |
CALL FOR PAPERS
SUBMISSION
May 31, 2021

NOTIFICATION
June 30, 2021

PUBLICATION
July 31, 2021
International Journal of Security (IJS) invites original research papers, review articles, case studies and short communications that are not published or not being considered for publication.

LIST OF TOPICS



Anonymity and pseudonymity

Attacks, security mechanisms, and security service




Cellular/wireless/mobile/satellite networks securi

Code security, including mobile code security


Confidentiality, privacy, integrity, authenticatio

Cryptography and cryptanalysis

Data confidentiality issues





Denial of service attacks and countermeasures

Dependability and reliability

Design or analysis of security protocols

Distributed access control

Distributed and parallel systems security





Information hiding and watermarking

Intellectual property protection




Network and Internet security


Network security performance evaluation



Prevention of traffic analysis


Public key cryptography and key management

Revocation of malicious parties

Risk assessment and management

Secure location determination

Secure PHY/MAC/routing protocols


Security group communications

Security in ad hoc networks

Security in cellular networks (2G, 2.5G, 3G, B3G,

Security in communications

Security in content-delivery networks

Security in distributed systems

Security in domain name service


Security in high-speed networks

Security in integrated networks

Security in integrated wireless networks

Security in internet and WWW



Security in optical systems and networks

Security in peer-to-peer networks

Security in satellite networks

Security in sensor networks


Security in wired and wireless integrated networks

Security in Wired Networks

Security in wireless communications

Security in wireless internet

Security in wireless LANs (IEEE 802.11 WLAN, WiFi,

Security in wireless MANs (IEEE 802.16 and WiMAX)

Security in wireless PANs (Bluetooth and IEEE 802.


Security specification techniques


Tradeoff analysis between performance and security


Viruses worms and other malicious code

WLAN and Bluetooth security
CALL FOR EDITORS & REVIEWERS
Join the network of 18000+ researchers who participates in review and publications with CSC Journals.